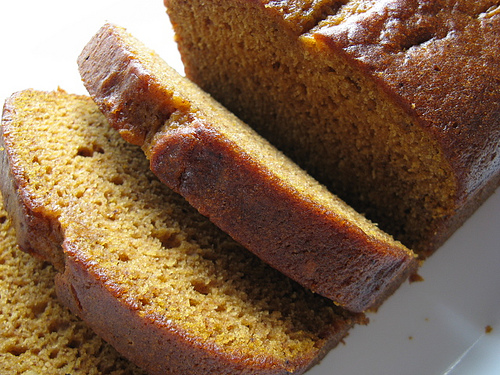 This is truly the most delicious pumpkin bread I've ever had. Everyone who tastes it wants the recipe.
Wet Ingredients
1 can of Pumpkin (2 Cups)
3 C Sugar
1 C Oil
2/3 C Water
4 Eggs
Dry Ingredients
3 1/2 C Flour
2 tsp baking Soda
1 ½ tsp Salt
1 tsp Cinnamon
1 tsp Nutmeg
½ tsp ginger
Combine wet ingredients (that includes sugar) beat for 1 minute. Sift dry ingredients and add to wet combine and stir for 1 minute.
Grease and flour bottoms of 2 large loaf pans
Bake at 350 for 65 minutes and bake another 10 minutes at 300
Cool for 5 minutes and enjoy!